Market commentary
2022 Market Outlook: Investing In The Age of COVID 2.0
The stock market had plenty of reasons to decline in 2021. New COVID variants kept delaying a return to normal. "Transitory" transitioned from a term to describe temporary inflation to one to describe sticky but temporary inflation, to a fineable word inside the Fed, to a word retired by the Fed. Meanwhile, the FOMC transitioned from not even thinking about thinking about raising interest rates to preparing investors for a mid-2022 hike after an accelerated taper. The reason for the Fed's pivot was inflation skyrocketing to 6.8%, its fastest pace since 1982.
Through it all, the S&P 500 ended the year 26.9% higher than where it started, notching 70 record highs along the way, second most on record after 1995. The S&P rose more than 10% for a third consecutive year for the first time since 2012-2014. All 11 S&P 500 sectors posted double-digit returns for the first time since 1995. The popular averages were able to rally strongly for several reasons. Top of the list is the expected 65.0% growth in S&P 500 earnings. Consensus started the year at 22.8%, making the upward revision the biggest since data began in 1984. Record equity mutual fund inflows and a resurgence in stock repurchases more than offset stock offerings.
Asset Class Results
S&P 500 over Nasdaq. The S&P 500 outpaced the Nasdaq Composite for the first time since 2015. The S&P's 5.5% beat was biggest since 2002.
Stocks outperformed bonds. The S&P 500 outgained the Bloomberg Barclays U.S. Aggregate by 30.2% in 2021, the second-biggest spread since at least 1977, after 2013.
U.S. outpaced international. The MSCI EAFE surged 18.7% in 2021, but that still trailed the S&P 500 for a sixth consecutive year, the longest streak since MSCI data began in 1973.
Commodities retained the top spot. The S&P GSCI was the top asset class on the table for the year, gaining 37.1%.
Gold was an exception. Unlike most commodities, gold fell in 2021, dropping 3.6%, although the yellow metal rebounded 4.2% in Q4.
Crypto on the move. Crypto currencies are gaining traction as an asset class, but they are volatile. Bitcoin surged 59.8% in 2021, with a 52.9% drawdown.
The table below shows returns for 12 asset-class benchmarks for the quarter, each month of Q4, and 2021. Every period is ranked separately, and each asset class has its own color so that trends can be seen easily.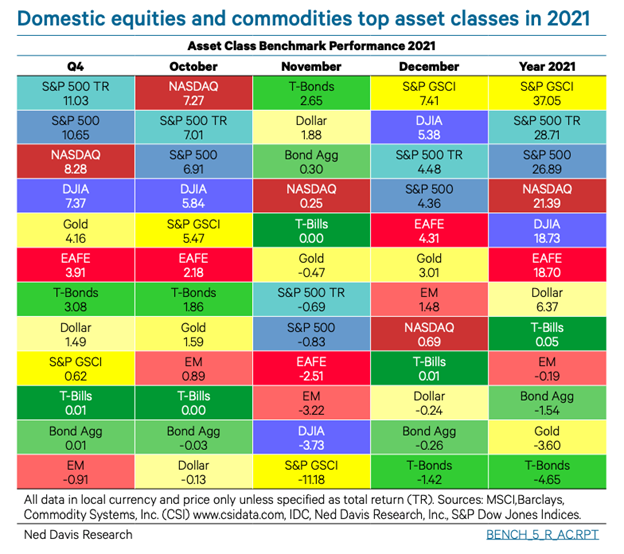 Overall, 2021 was a tumultuous year with the impact of a sustained global health pandemic consistently weighing on our day-to-day lives, businesses, and families. While the economic news was generally positive, including housing prices rising significantly and jobless claims coming in lower than expected, there was a lot of not-so-great-COVID news to digest. COVID-19 disrupted flights and cruises during the busy holiday travel season with the CDC changing its guidance and telling people to avoid cruises altogether, regardless of vaccination status.
Last year also brought historically high inflation, a tightening labor pool, and widespread supply chain issues. Global tensions continue to be a concern after a difficult military withdrawal from Afghanistan and a strained diplomatic relationship with China and Russia. Their recent activities over Taiwan and on the border of Ukraine, respectively, have threatened instability on the world stage.
Where Do We Go from Here?
When policymakers pumped record stimulus into the economy to combat the pandemic, they did so with eyes wide open. They risked inflation to prevent a depression. Two years later, policymakers have the arduous job of reversing the flow. How well they navigate the stimulus removal could be the biggest driver of financial markets in 2022.
Adding to challenged macro conditions are sentiment and technical indicators that imply many are fully invested heading into the New Year. Stocks as a percentage of financial assets are at a record high for investors. At the same time, the percentage of stocks making one-year lows has been increasing in the second half of 2021. We expect a slower pace of gains, more frequent pullbacks, and an increasing probability of a shallow bear market. Whether that comes to fruition will depend on if inflationary pressures force the Fed to raise rates earlier and more frequently than currently expected. 
Quality Over Growth
Regardless of whether the popular averages experience increased volatility, the earnings, economic, and monetary cycles favor higher quality stocks. From a style perspective, that means stable Growth stocks over cyclical Value stocks and large-caps over small-caps. If we experience a pull back, that could leave high-beta companies and certain sectors oversold.
Profit margins are the wildcard for 2022. Faster wage growth and higher commodity costs should put downward pressure on margins. For the past 40 years, however, Corporate America has managed costs during expansions well. Margin compression has come almost exclusively during recessions. December 2022 will mark 21 months after the end of the recession.
The monetary cycle is also a key component that will impact market expectations for 2022. The Fed is poised to start hiking short-term rates as soon as mid-year. In the six months before and six months after the first Fed rate hike, the S&P 500 has risen an average of 9.3%. Speed matters – the impact of rate hikes has been felt sooner during fast cycles (Fed raises rates at every meeting, on average) than during slow cycles (Fed waits at least one meeting in between, on average).
In addition to rate hikes, fiscal stimulus will be far smaller in 2022 than in 2021. The removal of stimulus during the first half of mid-term years is common. A more restrictive Fed is a leading candidate for the cause of corrections or a shallow bear market.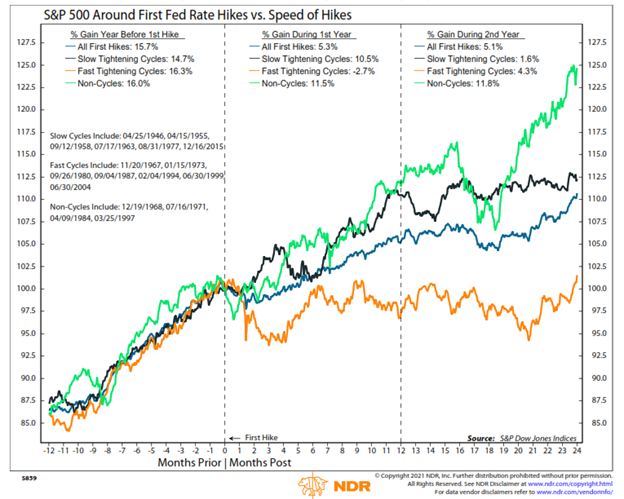 What To Expect From The Fed
With the Fed Chair decision now behind us and the Fed ready to accelerate the pace of the taper, the focus for 2022 will shift to the economic data and the Fed's reaction to it. Although Powell has tried hard to separate tapering from tightening, Powell's pivot to a faster taper just strengthens the link. If the Fed hikes too early as inflation is peaking, it risks an unnecessary slowing of the economy later in the year or in early 2023. But if the FOMC hikes too late, it risks allowing inflationary pressures to fester, resulting in more or larger rate hikes down the road. Maximum employment should be achieved in Q2 or Q3, paving the way for the Fed to hike rates next summer.  But if inflation expectations break out, the Fed will be forced to raise rates before achieving maximum employment.
The Fed desperately wants to achieve maximum employment before hiking rates. We think it is likely that maximum employment will be achieved in Q2 or Q3, paving the way for the Fed to hike rates this summer. A second rate hike could be seen after the mid-term elections.  If the Fed pursues this policy path, we see the terminal fed funds rate in the 1.75% to 2.00% range. But should the Common Inflation Expectations (CIE) Index break out to the upside (above 2.2% on the chart), the Fed will be forced to Raise rates before achieving maximum employment in order to keep inflation expectations well anchored at 2 percent.
If the Fed starts hiking rates in the summer like we expect, growth should slow and inflationary pressures should cool.  As a result, short-term rates should rise more than long-term rates, resulting in a bear flattener, although the curve flattened sharply in December.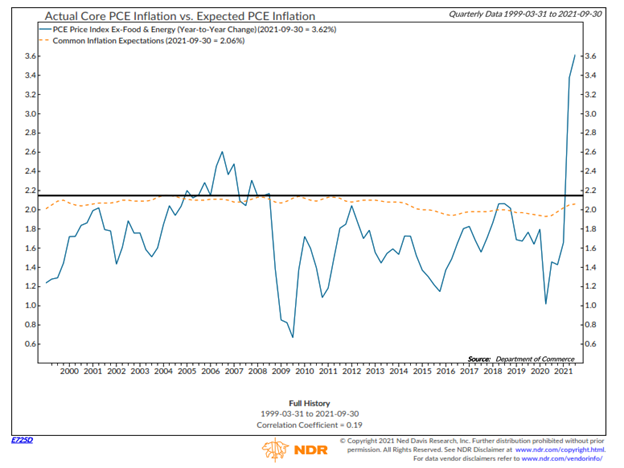 Fixed Income
As an asset class, bonds were not the place to be in 2021. The U.S. Aggregate Float Adjusted lost 1.6%, the third worst calendar year performance since 1976. Led by Treasurys, all sectors of the Aggregate lost ground.  Long-term Treasurys retreated 4.6%, while investment grade corporates declined 1.0%. But there were some bright spots outside of the aggregate. TIPS returned nearly 6.0% thanks to a large CPI principal adjustment. Lower rated credit also performed well. High yield gained 5.3% and the Municipal Bond Index also managed to generate a positive return of 1.5%, helped by a lack of supply, the threat of higher tax rates, and improving tax revenues. 
Consumer Spending Has Been Positive
In 2021 financial aid for households has mostly ended; income and spending growth will be supported by continued employment growth. The income replacement cycle, which substituted stimulus checks and jobless benefits for labor compensation earlier in the pandemic, is now working in reverse.
Accumulated savings and wealth during the pandemic were driven by asset appreciation, and a near-record low household debt service ratio provided a boost to spending growth. The personal saving rate is back to its pre-pandemic level, indicating no long-term change in consumer spending/saving behavior. Virus fears have an impact, but we expect a continued spending rotation toward services and away from goods. Consumer sentiment directly impacts the outlook for spending growth, but at this point, it does not signal a deterioration of spending trends.
Inflation May Begin to Peak
We believe that inflation is not transitory, and it will continue to impact the broader world economy. Strong demand, particularly for durable goods, and disrupted supply chains were the primary reasons we experienced CPI inflation hitting a 30-year high this year. But there are tentative signs that supply chain issues have begun to ease, including a moderation in freight costs, marginally better vendor performance, and a slower pace of backlog accumulation. Assuming limited damage from Omicron, the supply shock should continue to dissipate in 2022. Food and energy prices should also moderate. Real estate and housing costs increases continue to create concerns.
On The Horizon For 2022 And Beyond
The headlines around space exploration, block chain/crypto currency, electric vehicles, clean energy, and new technologies certainly drew all of our attention in 2021.  We continue to evaluate and explore the possibilities within these segments of the market/economy.
Energy
Demand for energy will likely remain strong for old (Traditional Energy and Petroleum) and new (Clean Energy) if oil supply remains constrained and government regulation increasingly favors clean energy. There is a long-term trend of energy transition as we switch from fossil fuels to alternative energy options.
Automobiles
A strong pent-up demand for new cars exists as supply chain problems subside.  We will also see demand for EV offerings increasing. It's worth noting that Electric Vehicles (EVs) are projected to hit over 25% of passenger vehicle sales by 2020.  The race has started between old/incumbent car manufacturers and new/EV automakers to become the EV share leader. While valuations indicate a clear investor preference for EV manufacturers, traditional auto companies are not going down without a fight. There is no clear winner to date.
Bitcoin
Presents more potential as Bitcoin regulation increases and Bitcoin's price decreases further. Bitcoin made strides towards mainstream acceptance with major websites like Expedia and Microsoft accepting the coin as a means of exchange. Increased government oversight, coupled with the move by several countries to consider digital versions of their national currencies, are likely to result in a lot more regulatory activity in 2022. 
Financials
Financial services are on our radar for 2022. The questions remain – what will impact banks and other financial companies in 2022? Areas we are watching include inflation, yield curve steepness, the credit cycle, lending, competition, the IPO market, and growth of decentralized finance. Capital Markets transactions are robust, and banks and brokerages will likely get in on the buying/selling crypto action as regulation and oversight increases.  Brokerages could also benefit from increased trading volume if volatility increases in 2022.
Final Thoughts
It has been a pleasure to serve you and your family during the unprecedented challenges of these past two years. We have enjoyed and will look forward to discussion around the markets and the economy in 2022.
From the entire Benchmark Team, thank you for the opportunity to serve you, and Happy New Year!
Sources: Ned Davis Research
Nothing contained herein shall constitute an offer to sell or solicitation of an offer to buy any security. Material in this publication is original or from other sources published with express permission and is believed to be accurate. However, we do not guarantee the accuracy or timeliness of such information and assume no liability for any resulting damages. Readers are cautioned to consult their own tax and investment professionals with regard to their specific situations.