The Market's New Math
How do we make sense of stock splits that cause companies to rally over 20%?
When $10 + $10 = $24 
After Apple (AAPL) and Tesla (TSLA) recently announced stock splits, shares of each firm rallied some 20%.  So, the Market believes that two $10 bills do not equal a $20 bill.  The Market would have you believe that those two $10 bills equal $24.  Now, I tried to use this New Math on my golfing opponent this weekend, and I can tell you it only works in the financial markets.
As you know, a stock split theoretically creates no incremental value.  You are just getting more shares at a reduced price which leaves you in the same exact wealth position; they are taking your $20 bill and giving you back two $10 bills.  But many investors believe that stock splits do matter since they can expand a stock's ownership base allowing the smaller investor, or should I say, the Robinhood investor, to buy now lower-priced shares from popular companies. They claim that these new buyers increase the chances that demand for these shares will remain in favor.  Proponents of stock splits also argue that these splits have a signaling effect telling the market how management feels about the future stock price for their shares.  Finally, they note that the average price of a share in the S&P 500 has raised from $50 in 2010 to over $182 today increasing the need for corporate boards to create more affordable stock prices with by splitting the company's stock.
This may make some sense, but the expanded-ownership argument fails when you realize that trading volume based on dollars traded in these "stock-split" companies does not change, and many brokers have offered fractional share ownership for a number of years which refutes the idea that the absolute price level of a stock could discourage today's investors.
But it is hard to argue with a quick 20% gain in Apple and Tesla that was not accompanied with any materially new information either before or after the stock split announcements.
I would imagine that the boards of other companies trading at high prices might be considering similar moves.  A quick review of the price levels of the S&P 500 companies yields 6 companies trading above $1,000 per share.  Four of those stocks are presently in our core equity portfolio: Amazon (AMZN), Alphabet (GOOGL/GOOG), Autozone (AZO), and Booking Holdings (BKNG).  At the time of the Apple announcement, their stock was trading at $460, and there are another 20 stocks that trade between $400 and $1,000 in the S&P 500. Five of our stocks have prices trading in this range: Intuitive Surgical (ISRG), Roper Industries (ROP), Adobe Systems (ADBE), and Thermo Fisher (TMO), as well as the aforementioned Apple (AAPL).
You cannot argue with the results after these recent stock splits, and I would love to find a golf opponent who would allow me to pay off my bets with this New Math (or find a better golf game).  
Market Outlook
The current narrative of better than expected economic data still playing tug-of-war with the risks associated with rising COVID cases continues. Large capitalization technology stocks have stalled somewhat, but risk appetite now appears likely to pick up again. Prices ultimately follow earnings growth, and these large technology stocks have proven the resiliency of their business models and profitability during this pandemic.  Indeed, while concerns over a second COVID wave and the associated risk of a drop in consumer spending remain, better news has continued to come through.
Economic data releases have continued to surprise on the upside, and many market indices are near record highs. China is benefiting from its first in / first out status, with exports showing surprising resilience throughout Q2, even if domestic demand has been slower to recover. US data has been particularly strong and will likely need to remain buoyant to support sentiment. In Europe, data has steadily improved, but remains below pre-crisis levels. Crucially, though, the agreement on a EUR750 billion Recovery Fund that will see common debt issued by the European Commission and grants to the worst-hit European countries is a game-changer for the longer-term prospects of the Eurozone.
While the number of new daily infections in the US is showing a consistent decline, this is offset by a worsening situation in some parts of Western Europe, and hence we are seeing an increase in measures to flatten this out which is entering into the data with some softening in German consumer spending data, as an example. Contrast this with U.S. Redbook retail sales inflecting higher along with Open Table data.
On the fiscal stimulus front the "Phase 4" negotiations are moving slowly, but an agreement is expected – and necessary for the recovery and for sentiment. While so far markets are taking this in stride, multiple Fed Presidents in the past few days have highlighted the downside risk to the economy if we do not receive a fiscal package.
In our view, even if it is bumpy, if the recovery continues, markets should manage to grind higher. Admittedly, several hurdles are on the path ahead, but we believe they will be overcome, likely with higher volatility, but with limited corrections. Indeed, sentiment and positioning remain bearish, cash levels are elevated, and fiscal and monetary support is set to continue. Most the investors that missed the rebound so far are likely to see corrections as better entry points for the longer term, suggesting the downside is more limited.
Moreover, none of the risk scenarios ahead should completely derail the recovery. We do not expect new broad lockdowns, as cases appear to be peaking in several southern states in the US and hospitalization levels remain manageable.
We believe that rising tensions between the US and China will remain contained and not lead to significant economic consequences and the US election is likely to bring higher volatility as it nears, but not a sharp sell-off unless the Chinese retaliate for the recent developments at Tik Tok/We Chat in an attempt to influence undecided voters. US/China tensions may be paused for a couple sessions at least as we await updates from the discussions on the Phase 1 trade deal. Finally, Q2 earnings, so far, have proven better than expected. As such, we are constructive on equities.
Conversely, we expect bond markets to remain stagnant with low-for-longer sovereign yields thanks to central bank actions. As equity markets move higher, credit spreads should also resume their downward path. We maintain a preference for investment grade credit over high yield where default risk persists, although selective opportunities exist.
Equities
We believe that sentiment is likely to break out on the upside, as better news has continued to come through and appears to be winning the battle against fears of a second COVID wave. Plenty of hurdles remain, including high unemployment, US/China tensions, US elections, Q2 earnings and US fiscal negotiations, and volatility is likely to rise, but we believe the most important driver is the continued economic recovery. If we can continue the recovery path, markets can gradually move higher.
Valuations have risen but should not be a hurdle to market advances if risk appetite remains supported by the economic recovery and monetary and fiscal stimulus. Nonetheless, we will keep an eye on Q2 earnings season, though so far results have held up better than expected.
The agreement on a EUR750 billion European Recovery Fund, while already mostly priced in, should help European assets continue to play catch-up to the US, as the prospects of further fiscal cooperation and integration have virtually eliminated the risk of a euro breakup. European financials should additionally benefit from European Central Bank support and continue their recent bounce.
Fixed Income
Central bank actions continue to make the bond market rather boring, with sovereign bond yields set to remain low for an exceptionally long time. We maintain our preference for corporate credit over sovereigns, as there is potential for spread compression to resume with improving risk appetite. However, we believe that European yields will continue to fall thanks to the European Recovery Fund and the upcoming European Commission issuance of common debt.
We remain overweight US and European investment grade credit but remain more cautious on high yield as the extent of the damage from the crisis is still unknown and default risk remains elevated. In addition, if markets become disorderly again, central banks are expected to favor protecting investment grade debt over high yield issues.
The Market & Red/Blue Portfolios:  Presidential Election Outcome Predictor
In our last note ("Introducing the Red vs Blue Portfolio Election Tracker", August 2, 2020) we introduced our Red vs Blue Portfolios that we have been utilizing internally over the past several presidential election cycles as an early indicator of the outcome in those contests, and we committed, at that time, to provide you with updates in these notes on the performance of those two portfolios during the last 100 days leading up to the November 3rd election.
Former VP Joe Biden winning the White House while the Republicans retain their leadership in the Senate is the least discussed electoral outcome, but new research appears to indicate that this is a very real possibility.  First, voters have shown they like a check on the presidency, and probable voters for Biden have indicated that their vote is meant to reflect their disapproval of President Trump more than their approval of the former VP. Historical voting patterns reflect that this type of "negative" support normally does not translate into down ticket races in the Senate or House. 
A split government might be the best outcome from a market perspective, as investors would get Biden's more predictable trade policy, plus an effective continuation of Trump's pro-market tax policies with the Republican Senate blocking any attempt by Democrats to raise corporate and individual taxes.  Higher predictability might offset the higher regulatory costs assumed under a Biden presidency. Both parties have high drug policies in their crosshairs, but the risks to pharmaceutical companies are far less under a split government.  The same is true for Big Technology companies.
What follows is the status of the "Red vs Blue" Election Outcome Tracking Portfolios: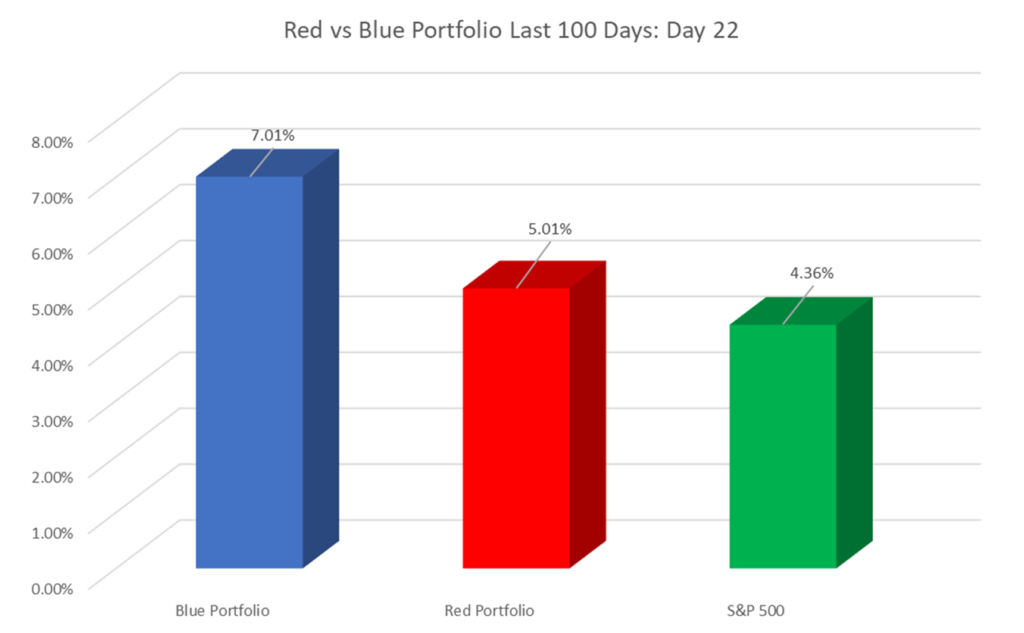 The results to date favor Joe Biden, but I would caution our readers to not place too much emphasis on these early results.  The market historically has not focused on the presidential election until after the conclusion of both party's conventions later in August.  This year we are particularly interested in how the market and these portfolios behave during the 30 days leading into the election as positive market results have favored the incumbent party in 80% of past presidential elections while poor market performance coupled with strong relative performance of the Blue portfolio would signal a change in the Oval Office.  Stay tuned.
Warm regards,
John P. Swift, CFA®, CPA
Chief Investment Officer