At Benchmark
We guide you through
In our wealth planning process, we focus on your family's history, unique circumstances and specific needs. By taking the time to understand where you are today, we are better prepared to recommend appropriate solutions at just the right time. We take a long term approach and address the wide spectrum of your legacy – family values, finances, business and philanthropy – and plan ahead for the needs of future generations.
As your partner in the planning process, we consider both the big picture and precise execution. At its core, wealth planning is about connecting strategies with aspirations, so our starting point is a detailed discovery process. We ask the difficult questions and listen closely to your insights and reflections — not just the words but the emotions behind them. Understanding what you value most provides a foundation for our planning.
Our goal is to ease financial complexity, so our approach seamlessly integrates financial, tax, estate and philanthropic planning. Your Benchmark team brings your family experienced, credentialed professionals, with access to a broad array of tools, including wealth transfer, estate planning, tax analysis, financial modeling and philanthropic development. We work closely with your outside advisors to create a comprehensive, cohesive wealth management plan.
The Personal Financial Website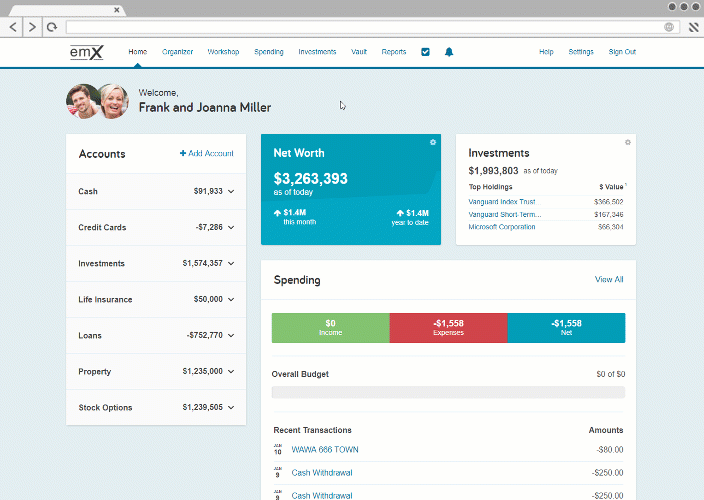 Benchmark uses industry-leading Financial Planning technology to dynamically monitor data and present advanced solutions to our clients. The e-Money system is highly effective in organizing the variety of assets, liabilities, insurance, stock options, business interests, and estate planning vehicles affluent families have to keep track of.
Get started on your Wealth Plan today!
Once you fill out our financial planning questionare, we will begin formulating your financial plan.